Background
This part applies to land zoned R1 General Residential, R2 Low Density Residential, R3 Medium Density Residential and Zone R5 Large Lot Residential. This part focuses on the broad issues associated with the subdivision of land which need to be addressed including lot dimensions, street block and lot configuration, street network and public transport.
In addition to these subdivision controls, further controls are provided within the following Schedules of this DCP that apply to site specific localities. Refer to Figure 3-1 which shows the location of the schedules;
Schedule 1 – Elderslie
Schedule 2 – Spring Farm
Schedule 3 – Manooka Valley
Schedule 4 – Harrington Grove
Schedule 5 – Mater Dei
Schedule 6 – Camden Lakeside
Schedule 7 – El Caballo Blanco and Gledswood
Schedule 8 – Emerald Hills
If subdividing in R5 zone refer to the following schedules;
Schedule 9 – Catherine Field Village
Schedule 10 – Yamba
Schedule 11 – Grasmere
Schedule 12 – 121 Raby Road
Schedule 13 – 190 Raby Road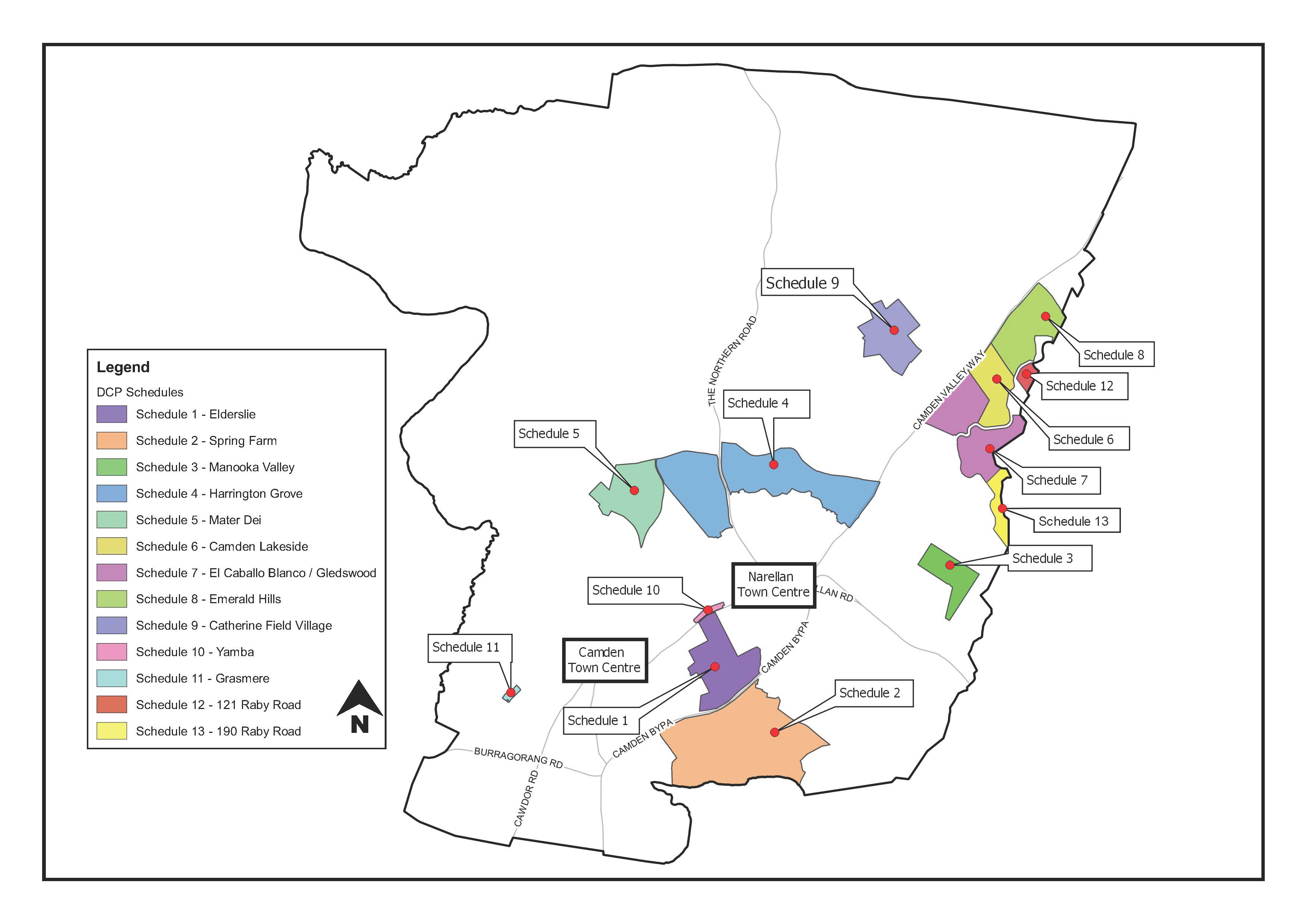 In the event of an inconsistency between a Schedule and the main body of this DCP, the Schedule prevails.
This Part must be read in conjunction with the requirements set out in Part 2 and Part 4 of this DCP, where relevant.
The flow chart below (Figure 3-2) explains how to work your way through Part 3 – Residential Subdivision, depending on the type of subdivision development application and the subdivision category.
Integrated Development (Small Lot) Application Subdivision Approval Process
Background
Integrated Development involves the subdivision and construction of dwellings on small lots (less than 300m2).
An Integrated Development Application can be either categorised as Pathway 1 or Pathway 2 depending on the development type as shown in Table 3-1.
Objectives
To facilitate a diversity of housing sizes and products;
To ensure that subdivision & development on smaller lots is undertaken in a coordinated manner; and
To ensure that small residential lots achieve an appropriate level of amenity.
Controls
The subdivision of land must comply with CLEP 2010 which prescribes minimum lot size requirements for land in the Camden Local Government Area.
The subdivision approval process for small lot development is to be consistent with the requirements outlined in Table 3-1 below.
Table 3-1: Subdivision Approval Pathway for Integrated Development

Pathway 1

DA for Subdivision with Detached Dwellings or Abutting Dwellings

Pathway 2

DA for Subdivision with Attached Dwellings or Semi-Detached Dwellings

Application

Lots less than 300m2

Lots less than 300m2

Dwelling Design s88B restriction required

Yes, only the approved dwellings should be built as shown on the s88B instrument)

No (as the dwellings must be constructed with the subdivision as integrated housing)

Timing of subdivision (release of subdivision plan)

At any time with a s88B instrument, or

No earlier than post a satisfactory frame inspection from a principal certifying authority (PCA)

No earlier than post a satisfactory frame inspection from a principal certifying authority (PCA)